In this 'behind the scenes' article, I am going to give you some insight into the Swansea City trilogy, from your favourite Swansea author (which, I assume, is me).
It's been over four years since Match of My Life was released, but I still enjoy chatting to Swans fans about these three books. Every time I see a copy on the shelves or sign one for a fellow Swans supporter, I am incredibly proud. It really is the best feeling as an author!
While searching through some old photos, I stumbled across a couple I took during the writing and launch of Greatest Games, Miscellany, and Match of My Life. So I decided to compile some of my thoughts about working on these books, to give you a little glimpse into what goes on.
Enjoy this peek behind the curtain…
Before we get into it, have you checked out my Planet Health podcast? It's nothing to do with Swansea City – instead, it's a fun exploration of eating and movements habits from around the world!
Writing 'Swansea City's Greatest Games' (2014)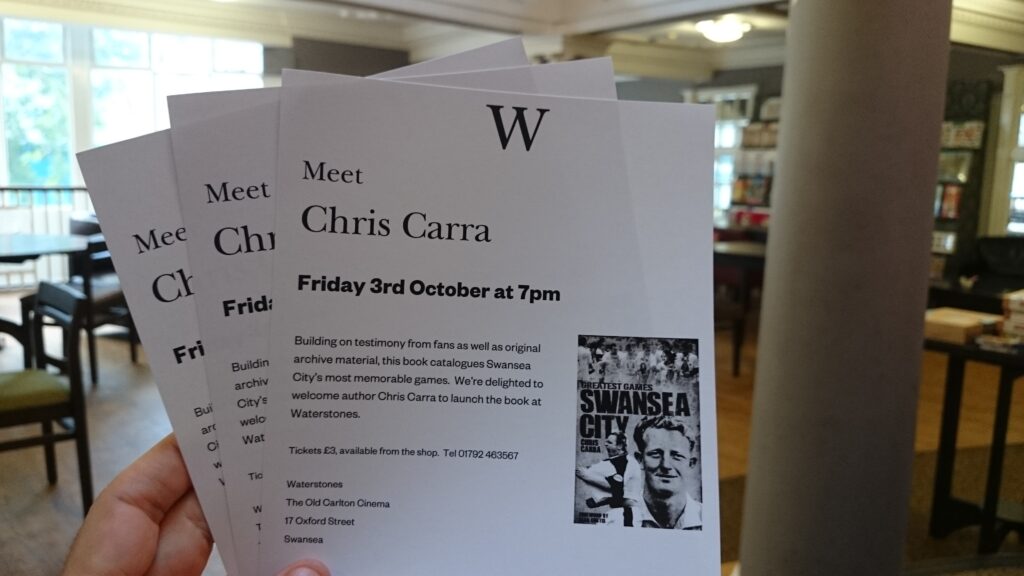 In 2014, after four years as the owner and editor of the award-winning blog, ForzaSwansea, I was commissioned to write Swansea City's Greatest Games – a ticket back in time through 50 of Swansea City's finest matches.
It was the respected British sports publisher Pitch Publishing that gave me the opportunity and I was determined to reward them for their faith in an unknown author by delivering a solid book that Swans fans would both buy and love.
Now, I don't remember the exact details, but I seem to recall I only had a small window in which to write the book (around three months). However, as I had only just moved into freelance writing after a stint at the Llanelli Star, I wasn't overly busy with writing work, so I could throw myself into writing the book on a full-time basis.
Contract signed, it made sense to begin by compiling a list of great Swansea City games! Several monumental matches in the club's history instantly jumped out at me: Hull 2003, Reading 2011, and Preston 1964 and 1981. Then came some of the matches that I had been at personally, including some of those in the Championship, Premier League and the Europa League.
However, I also had to delve a little deeper and head considerably further back to the 1920s, 1930s, and 1940s, to ensure I wasn't missing anything. In fact, the earliest match I included in the book was Swansea Town's debut against Cardiff City in 1912!
On that note, considering I hadn't been born for almost half the games involved in the book, extensive research was crucial. This meant that I would spend most of my days in Swansea Library, upstairs, sitting at the microfiche reader (the big machine that reads microfilm spools of archived newspapers).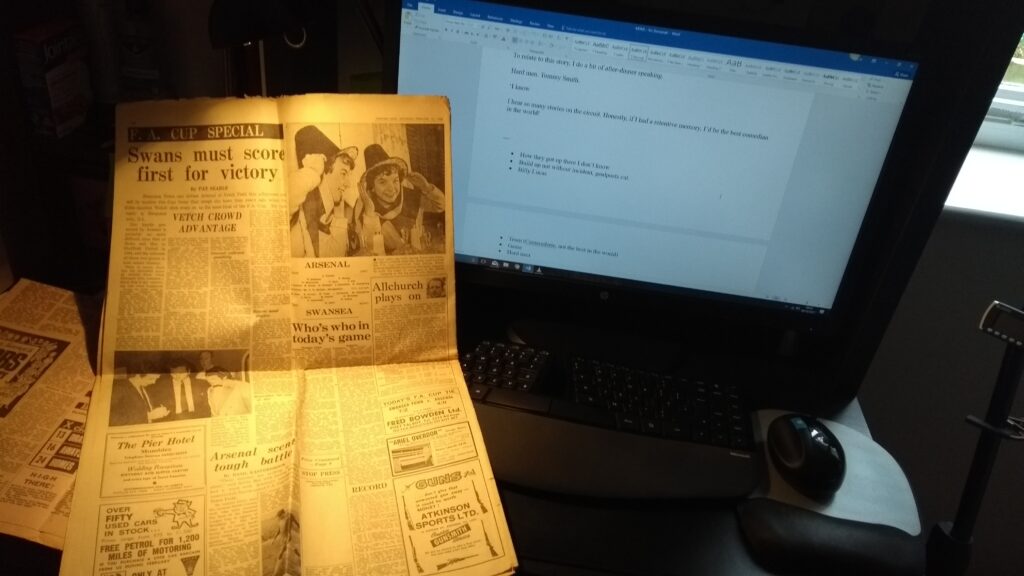 Something I remember about the earliest games I had to write about is that the match reports were so vague. Seriously, it was difficult trying to decipher what actually happened during games in the 1910s and 1920s – the journalists seemed more concerned about writing what the players were wearing and what the crowd were doing than the on-pitch action!
In addition to sifting through old copies of local newspapers, I also used books written by some excellent Swansea City writers, including Colin Jones and the late David Farmer.
This research was supplemented by video footage from YouTube and DVDs as well as matchday programs, many of which were kindly lent to me by Swans fans. I also spoke to a couple of Swans legends for their memories about the games, which was something I did in considerably more depth for Match of My Life (see below).
The publication of this book in October 2014 was one of the proudest days of my life! I enjoyed a wonderful book launch at Waterstones in Swansea, and the book went on to be a Christmas bestseller in 2014.
But I couldn't spend too long dwelling on this glory, for I had a second book to write…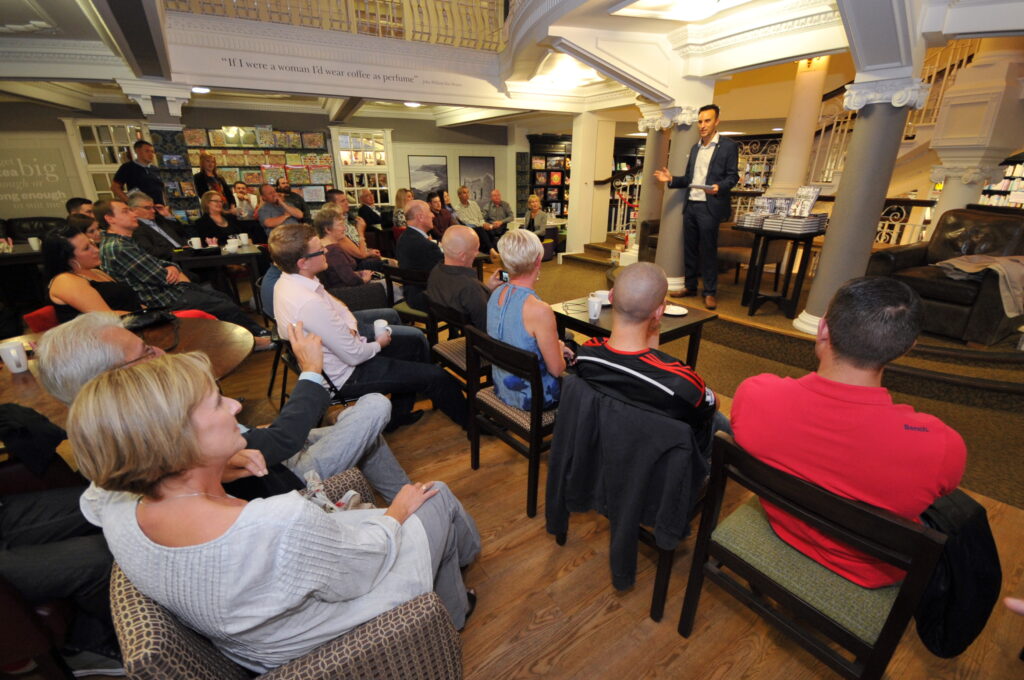 Writing 'Swansea City Miscellany' (2015)
At the time of commissioning the first book, Pitch Publishing also gave me the go ahead to write the Swansea City Miscellany, which would be published in time for Christmas 2015.
I am not going to lie… I can't remember writing this book!
I mean, I know I did write it. My name is on the cover. But the memories are very foggy. I think that's because I wrote it so soon after Greatest Games, and a lot of the research was very similar – i.e., library for books and microfiche, programs and video footage, and a little internet searching.
There's not much more to say. I almost see this book as an extension of the first one.
One thing I definitely remember is that when the book was released in 2015, I did the launch at the Liberty Stadium club shop. This was great fun and plenty of Swans fans showed up for their signed copies!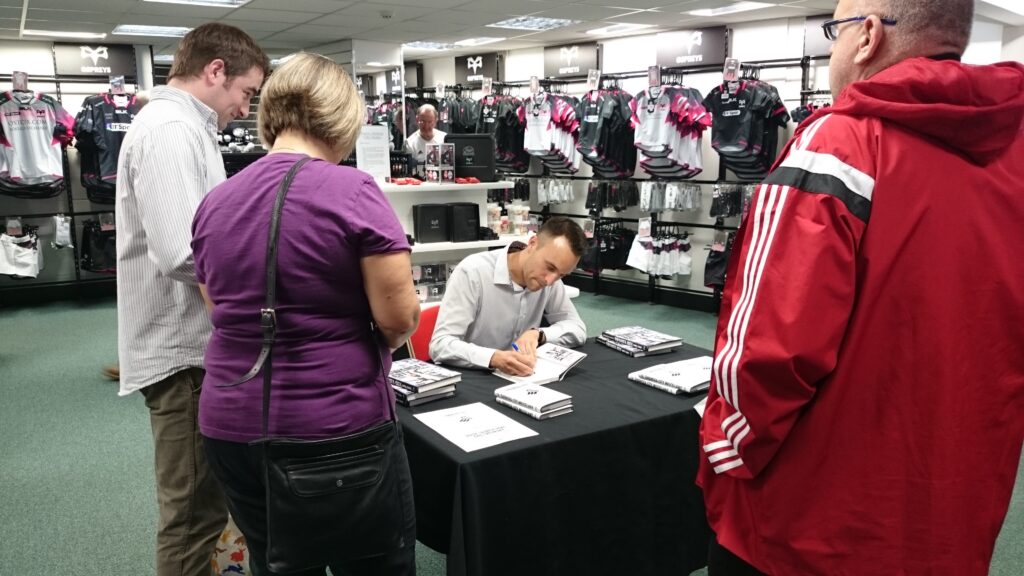 Writing 'Swansea City Match of My Life' (2018)
I had a year off books in 2016, before returning refreshed in 2017 for my favourite of my Swans trilogy, Swansea City Match of My Life.
This was a completely different experience to writing the first two, because I had to get out from behind the microfiche machine and into the real world. If you aren't aware of the concept of this book, it is based on 16 exclusive interviews with Swansea City legends. This meant that I had to go out and conduct 16 interviews!
I began writing the book in May 2017, for publication one year later. A lot more relaxed than my first book, but I definitely needed this extra time, as both finding 16 legends and pinning them all down for interviews would prove tricky.
As I began the journey, the biggest question was 'Could I get the players on board?'. There was only one way to find out…
I decided to start with one of the most famous and important names in Swansea's rich history, Mel Nurse. Mel owns a hotel in Swansea, so I popped in to introduce myself and ask if he wanted to share his story.
Truth be told, I knew that if Mel didn't want to take part, the book wouldn't get off the ground. But thankfully he was only too happy to chat with me about his time with the Swans and his debut match in 1956. His anecdotes and stories made for an excellent chapter.
One down, fifteen to go.
After Mel, I compiled a list of 'must-haves' and 'desirables', then went about trying to contact them. Luckily, I had good connections from my time both in local newspapers and writing about Swansea. As more players were involved, it became easier to find others.
The most enjoyable part of this book was meeting up with these players. What an honour it was to spend time with these icons, who had played such a significant role in the club's history.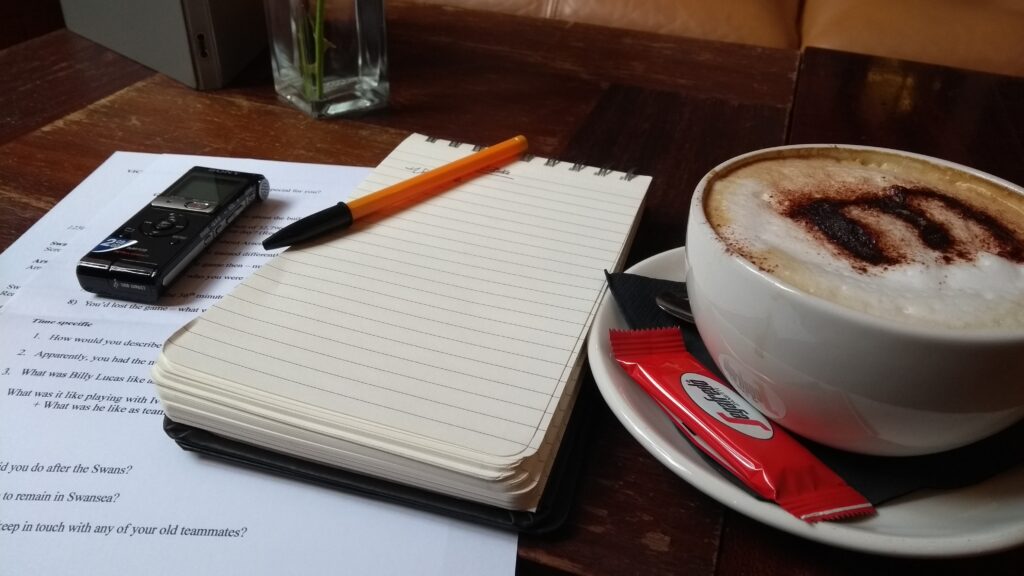 As a bit of 'behind the scenes', here's where I met some of the players and conducted the interviews (these are simply the ones I remember off the top of my head!):
Mel Nurse – his hotel on the sea front
Dai Gwyther – a golf club in Gower
James Thomas – Morgan's hotel in Swansea
Lee Trundle – Starbucks in the Village Hotel (Fabian Way)
Alan Curtis – a café in Mumbles
Roger Freestone – at his home (the day after he played at Alan Tate's testimonial match!)
Alan Tate – Swans training ground (Landore)
Leon Britton and Nathan Dyer – Swans training ground (Fairwood), on separate days
Matthew Bound – his office in Mumbles
One cool thing I did when meeting the players was asking them all to sign a copy of my first book. I still have this book, signed by everyone from Wyndham Evans to Leon Britton, and one day I will either give it away in a newsletter competition or as a charity prize. [Sign up to my occasional newsletter and don't miss out on that!].
Hang on… I tell a lie! I only actually physically met 14 of the players. There were two players I had to interview over the phone: John Cornforth, who was in Sunderland, and John Toshack, who lived in Spain. I also spoke with the legendary John Hartson on the phone to arrange his excellent foreword for the book.
Unfortunately, I had a few 'almosts' on my list. Without wanting to name this player, I spoke a few times to a legend of the sixties, who was a lovely guy but had no interest in sharing his story as he was no longer interested in football. Fair enough. I also met Ferrie Bodde at the Liberty Stadium – he agreed to the interview, but (somewhat stupidly) I didn't get his details and I never managed to contact him again!
Fast forward to 2018, and the book eventually turned out way more successful than I had imagined. I love the other two, but this one is my favourite.
Once again, I did the book launch in the Liberty Stadium club shop, and did a book signing at the Swansea branch of Waterstones a few days later.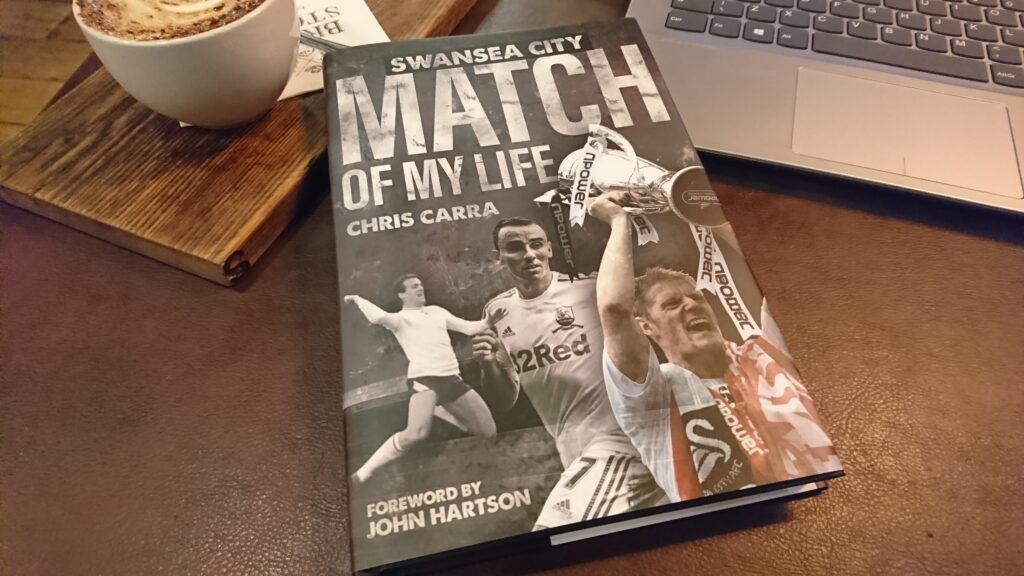 Will I Ever Write Another Swans Book?
I was very lucky to be writing about Swansea City at an amazing time in the club's history, as the Swans rose to Premier League success. The success of the club at that time helped my exposure as a blogger and an author. I look back on these times very fondly indeed!
However, it's unlikely that I will write another Swans book – at least not any time soon. I don't have any plans or any ideas, although never say never.
What Are You Doing Now?
I am now working primarily in the health, nutrition and fitness sphere, mainly for private clients but with a book idea in motion. I have also launched a podcast called Planet Health, which is keeping me entertained!
If you want to support my ongoing work, please subscribe to the podcast on Spotify, Apple, Amazon or Google. It really helps me and I am always happy to welcome new listeners. Who knows, you may pick up some tips along the way!
If you want to buy any of the books I mention on this page, you can visit my Amazon author page for all the links. You will also find them available in all good bookstores (if you can shop locally and independently, then I urge you to do so!).
If you want me to sign a copy for you or as a gift, please get in touch and we can arrange this.
Finally, I want to thank YOU, the reader.
You may well have bought one of my books in the past, or read one of my many, many Swansea City articles online. Or perhaps we interacted once on Twitter, or at a match, or wherever. But without readers, I would not have become an author when I did. So I owe my biggest thanks to you!
I'm always happy to hear from readers, so feel free to get in touch. Cheers!