How do you become a firefighter? Strangely, for a writer such as myself, I can actually give you a very good insight…
In 2021, I decided to apply to become a wholetime firefighter with my local fire and rescue service (wholetime basically means full-time, or not a volunteer).
I wrote an article about my experience for the July 2023 issue of the famous Men's Fitness magazine and I highly recommend you buy a copy to read my experiences. For that reason, I won't share them here.
However, I will give you a bit of background for those wondering what the hell I was doing…
Why Did You Apply to Become a Firefighter?!
I know, it's a bit crazy. I am a freelance writer. Why was I randomly climbing ladders and crawling through tunnels?
I remember the day that I first decided to go for this opportunity.
I was standing with some friends just after a group workout and they were all talking about whether or not they were applying for the fire service again.
Overhearing this conversation, I was bemused. These guys already had goods jobs. Why were they talking about becoming firefighters?
It turns out that there are a lot of perks of being a firefighter: good shifts, great pay, handsome pension, lots of downtime, being paid to work out and keep fit…
Oh, and the inherent coolness of potentially saving someone's life.
It appeared that many of my friends – both male and female – had applied to join the service multiple times. And now I could see why.
So, with a new recruitment window opening with my local fire service, I decided to try it myself. Let's put it down to a mid-life crisis…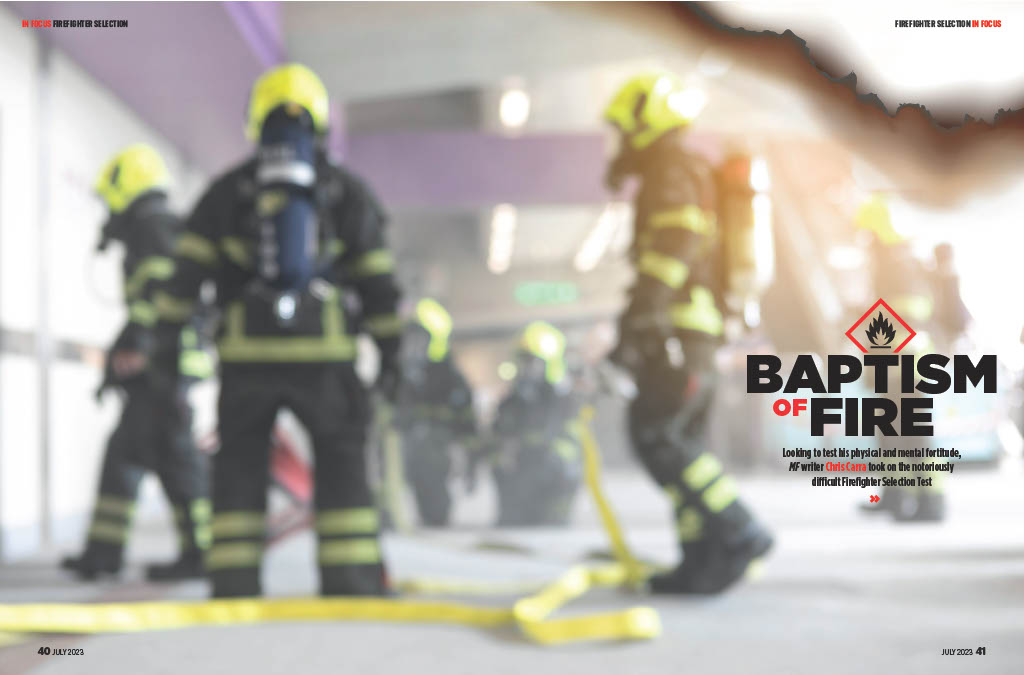 What Happened Next?
As I mention, the article I wrote for Men's Fitness gives you everything you need to know.
However to briefly summarize, I had to follow a long and arduous Mid and West Wales Fire and Rescue recruitment process that took place over several months.
Fail one stage and you were out. You'd have to wait for around six months before another recruitment window opened.
I started with a registration, then came a behavioural questionnaire and situational judgement test. A few weeks later I was tasked with some tricky online assessments which comprised verbal, numerical, and mechanical reasoning (essentially English, maths and physics).
After this was a multi-stage fitness test, which is more commonly known as a bleep test – it involves a lot of running between two markers, with your speed having to increase over time.
A few weeks later came a practical assessment day, which was long and tough. This involved around seven tests, including a ladder climb, dummy drag, equipment assembly test, and intense claustrophobia test (the worst of the lot – it involved dark tunnels and limited vision).
If you successfully complete that tricky day, then you are invited for a formal interview a few weeks later.
I surprised myself and passed every single stage, including the final interview. However, I didn't score highly enough to reach the final 12 people who were hired.
Now, that was a bit of a kick in the balls, but that's the nature of it! I wasn't too cut up considering I already have a good career as a freelance writer, but I did feel a little disappointed after all the work I had put in.
How I Found the Process
In brief, the process was tough. It has to be – the role of a firefighter is demanding on a physical, mental and emotional level, so each fire service has to ensure they are recruiting the best people.
Of all the tests, none of them were particularly easy. However, I always felt more confident with the fitness and physical tests compared to the online exams or the interview (for me, the interview was the worst part of the entire process).
After all, I already had a love of gyms and fitness, so doing some running or lifting wasn't that intimidating. I didn't have a natural love of maths or physics or being scrutinized during a two-on-one interview, so these aspects of the process were more of a challenge.
So… How Do You Become a Firefighter?
If you want to become a firefighter, you have to have a few qualities including intelligence and physical fitness (which includes agility, flexibility, strength, and so on).
However, for me, the most important quality you must possess is resilience. Chances are you won't pass recruitment on the first attempt – you may have to do it again and again… and again.
It's a long process and could take you a few years. This is why you need some determination and the ability to bounce back when rejected.
But if I could almost get there, you can too.
Aside from that, I would also say the best way to become a firefighter is to invest in a few resources, such as mock tests for the online exams and books to help you pass the interview. These stages can be passed with relative ease, providing you put in the preparation.
'Fail to prepare…' and all that…
The fitness side of things is up to you. You need to be able to run, lift, carry, crawl, climb and perform a myriad of other tasks to pass the physical ability days. If you struggle with this kind of thing, then make it a priority to start improving yourself!
If you want to become a firefighter, then I say go for it. Just sign up for the next recruitment window at your nearest service (a Google search will give you that), grab some resources, and throw yourself into it.
If you want some advice, feel free to get in touch.
Best of luck!
—
Enjoy this post? You may also enjoy my recent article on The Dad Bod – and How to Lose It!, written for my other website, Planet Health!