At the end of May this year, I decided to travel to Bordeaux, for one main reason: WINE! 🍷
Well, actually I was there for a stag trip to celebrate the upcoming marriage of my good friend Steve. So, if you want to get technical, I was there for Steve and wine.
Now, I know that Bordeaux is not the typical 'stag do' destination. Yet, for a bunch of wine-loving guys pushing 40, a trip to this wonderful area of France made complete sense.
More sense than Benidorm anway.
In this article, I give you some of my rough thoughts on Bordeaux and my experiences. Think of it as a mini Bordeaux travel guide. Although one that only just scratches the surface of what there is to see and do in the city.
(Want to know whether it's worth drinking red wine for your health? Check out my recent article over on Planet Health, exploring whether red wine is healthy!)
Day 1: Bordeaux City Centre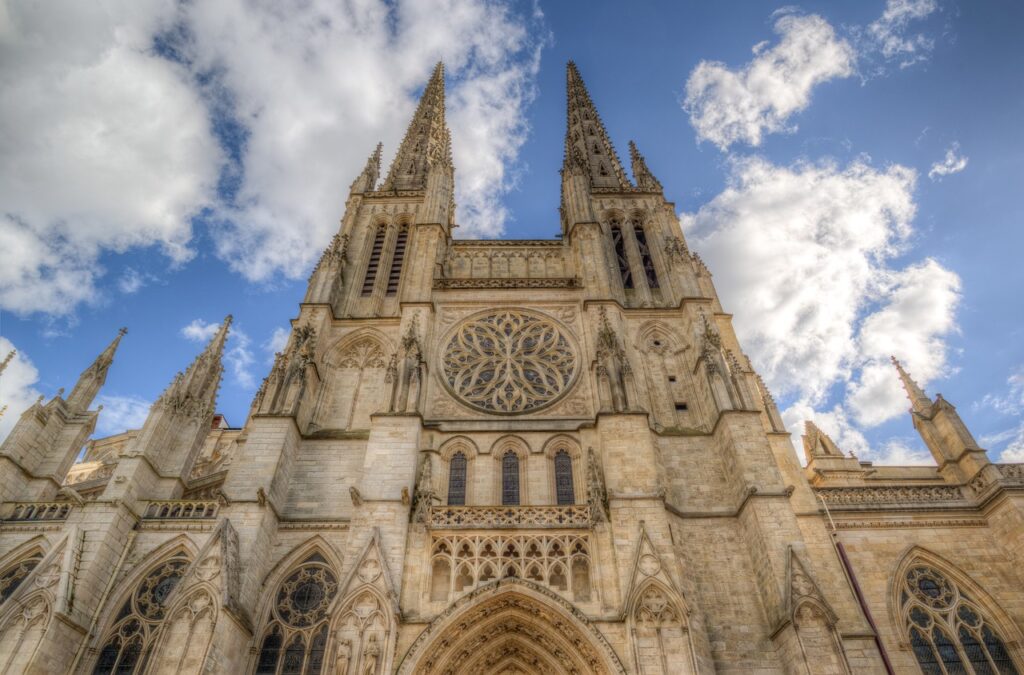 On both the first and second days, I spent a little time exploring the city centre of Bordeaux, known as La Belle Endormie.
We began by having lunch and a beer in a café overlooking the famous Saint-André Cathedral. You can find this at the Hotel de Ville stop on tramline A or B.
This magnificent building is the largest religious structure in Bordeaux, originally constructed in the 11th century. However, what we see today was mostly rebuilt between the 12th and 16th centuries. That was historic enough for me! I took a little walk through the cathedral, admiring the scale of the building, before emerging into the sunlight to grab some strawberries in a nearby market.
We then took a short tram ride to the Quinconces stop. Here, it was a short walk past Le Grand-Théâtre to get to Sainte-Catherine Street. This is currently the longest pedestrianized shopping street in Europe, at more than a kilometre! I actually didn't do any shopping as such, but it was a pleasant area to wander and browse.
Next, I took a long walk along the waterfront – overlooking the Garonne river – as the sun began to set. Interestingly, the water of the river is always brown, but this is supposedly due to mud not pollution. Still, not worth a swim…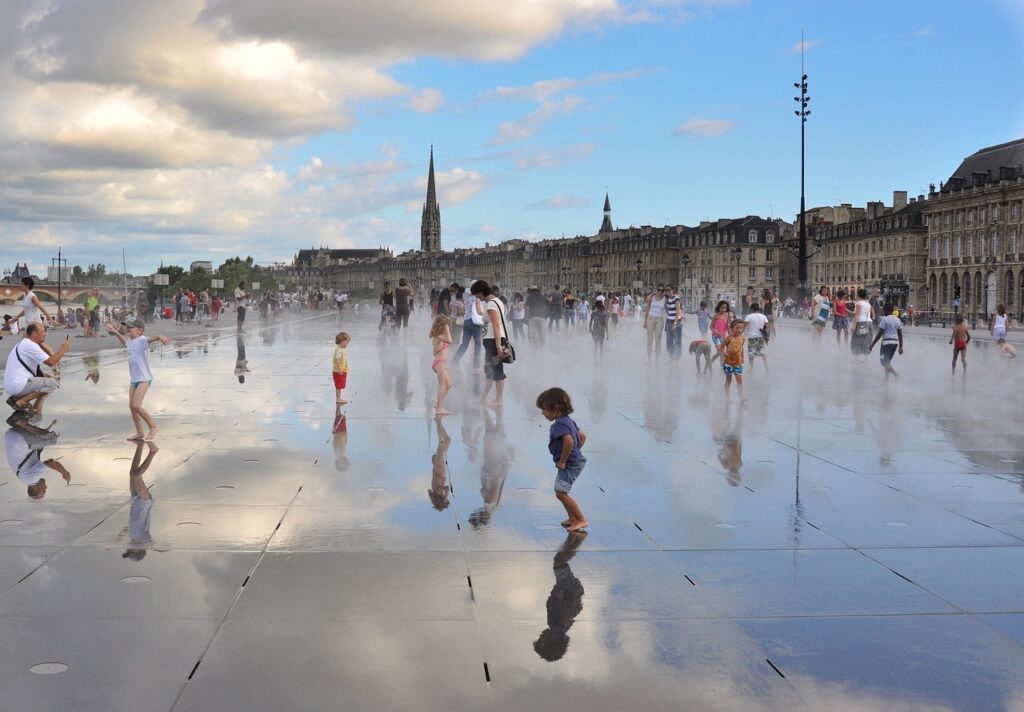 It was here that I saw both the grand Place de la Bourse and the distinctive water mirror of Bordeaux. I completely forgot to take a photo of either (although Pixabay was kind enough to supply the one you see above). It was a lovely area, with kids and parents playing in the shallow water on a blisteringly hot day.
I eventually had a stunning evening meal at a place called Monkey Mood, which overlooked the extravagant Basilique Saint-Michel. It was a 100% vegan Indonesian restaurant on Rue Camille Sauvageau and the food (and wine!) was incredible. Fresh, tasty and much needed after a long day and a lot of walking.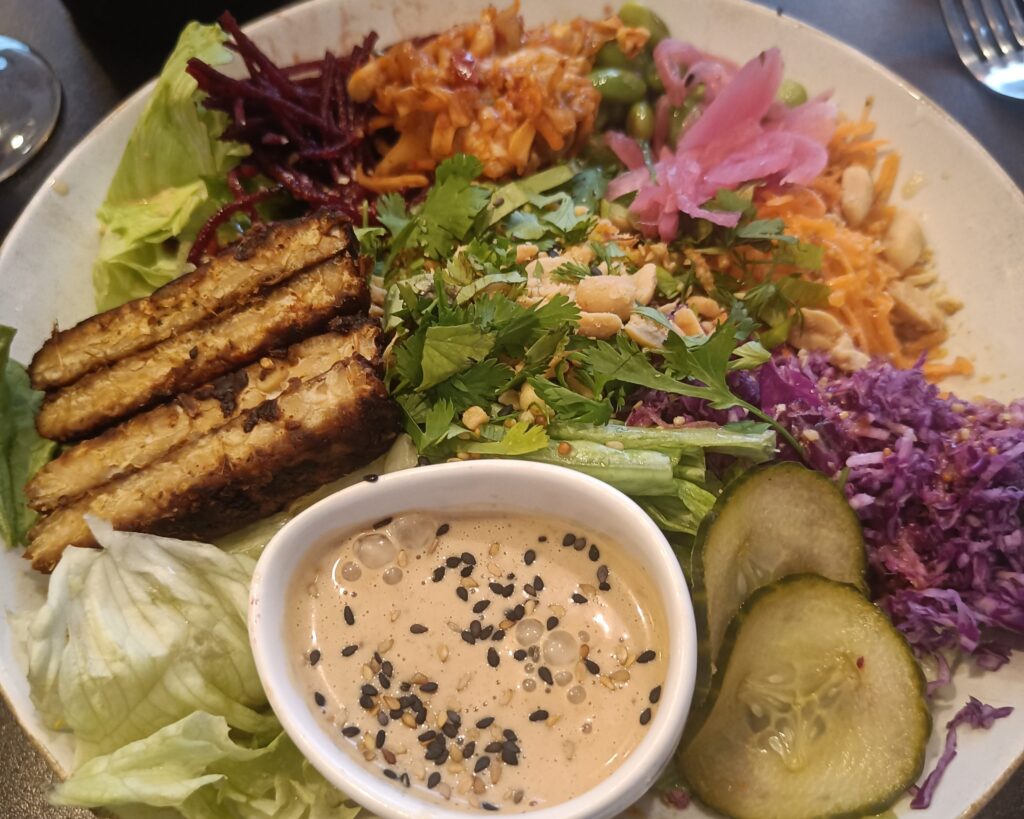 Day 2: Saint Emilion Day Trip from Bordeaux
The main event. On the second day, we caught a tram to Bordeaux centre (again, Quinconces), before a 9-seater car and a friendly tour guide picked us up from the tourist information centre.
We were off to the commune of Saint-Émilion, which is bursting with world-famous chateaus. After around an hour of driving, we were clearly in wine country as vines and chateaus began to dominate the countryside.
Vineyard #1: Château Rol Valentin
We eventually arrived at Château Rol Valentin, with 7 hectares of vines (mainly Merlot with some Cabernet Franc and Malbec).
Here, we were taken on a quick tour of the facility by an employee who was a little nervous, but friendly and informative.
It was cool to see the vines up close, as well as the production equipment and the storage casks. However, I'll admit that the only fact I really recall from the short tour is that they plant chickpeas next to the vines to allow the vine roots to breathe.
Back inside, we enjoyed tasting three reds and then had the opportunity to buy a bottle to take home – something I happily did.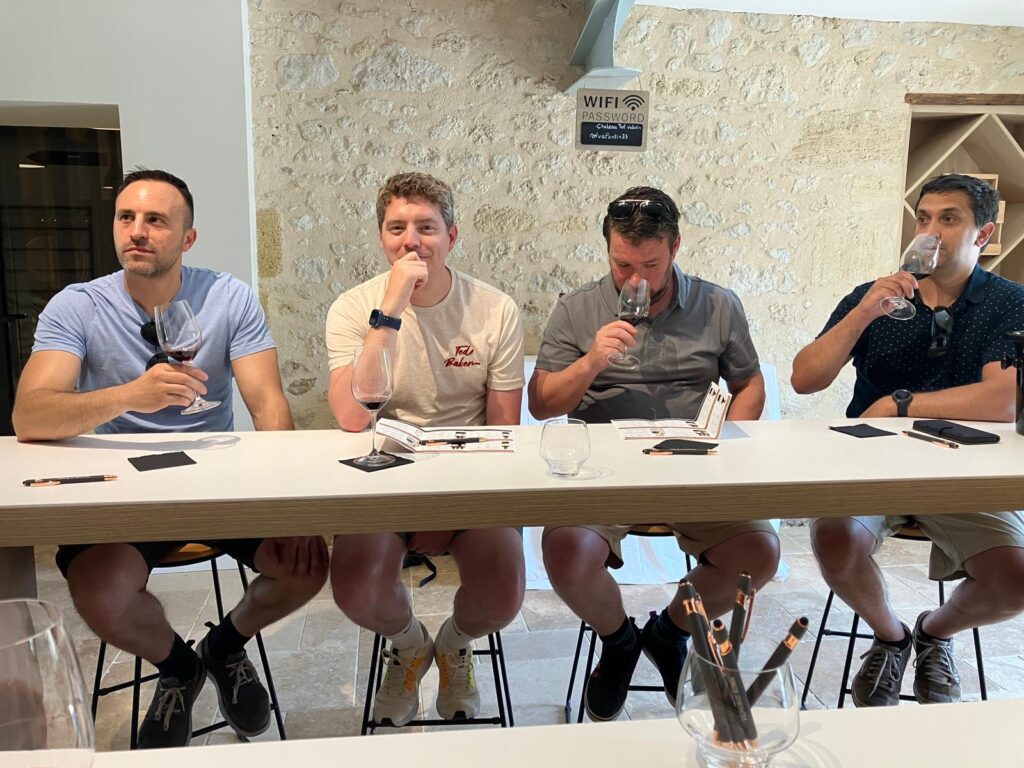 After this, we were taken to the medieval village of Saint-Émilion – a UNESCO world heritage site. Here we were told the tale of 8th-century monk Emilion from Brittany. He moved to the town and lived as a hermit, supposedly performing a few miracles involving conception.
We then had a few minutes 'free time' to wander to the top of a very steep cobblestoned street and explore the 11th-century Monolithic church (built to venerate Emilion), which was beautiful and very relaxing.
After a quick group photo at the top, we were taken to our second wine producer of the day…
Vineyard #2: Château Fleur de Lisse
At Château Fleur de Lisse (around 5km away from the historical village), we didn't get to see any of the facility, but we did watch a video about the history of the vineyard presented by the head honcho (whose name I instantly forgot).
Here, we tasted three wines, including two tasty reds and a slightly boring rosé. The second red was enjoyed outside by the vines, along with a small snack. This was mainly meat and cheese, as well as some nice veg pâté, olive oil and bread.
All in all, a great day of wine, sun and laughter that left everybody completely wiped out and ready for sleep.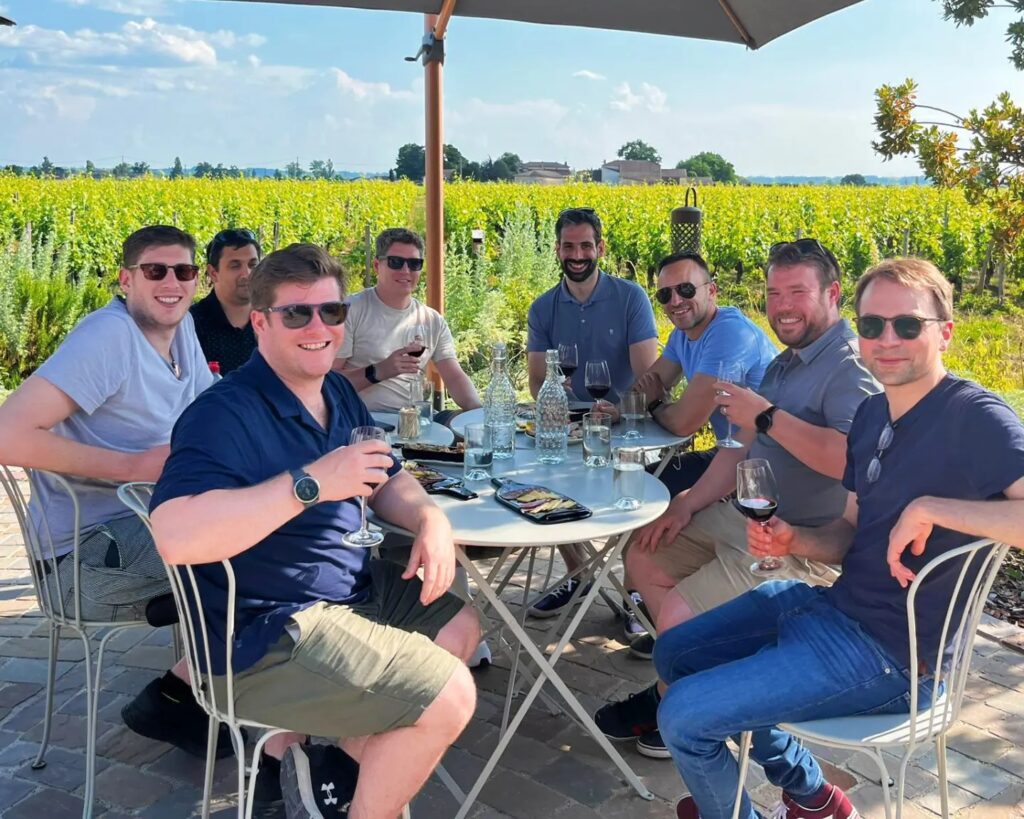 Day 3: Dune du Pilat
On day three of my Bordeaux travel experience, we took a trip to the famous Dune du Pilat.
For the uninitiated, this is the largest sand dune in Europe. Honestly, before we went, it wasn't my first choice of activities. I would have been happy sitting in a bar drinking more wine.
However, in the end, it was hell of a day and enhanced my Bordeaux travel experience considerably.
We had to get a 45-minute train to the seaside resort of Arcachon, before another 45 minutes on a bus to reach the green pine forest that gives way to this epic dune.
The dune is almost 3 kilometres long, half a kilometer wide, and rises to just over 100 metres, with the Atlantic Ocean on one side and a dense forest on the other.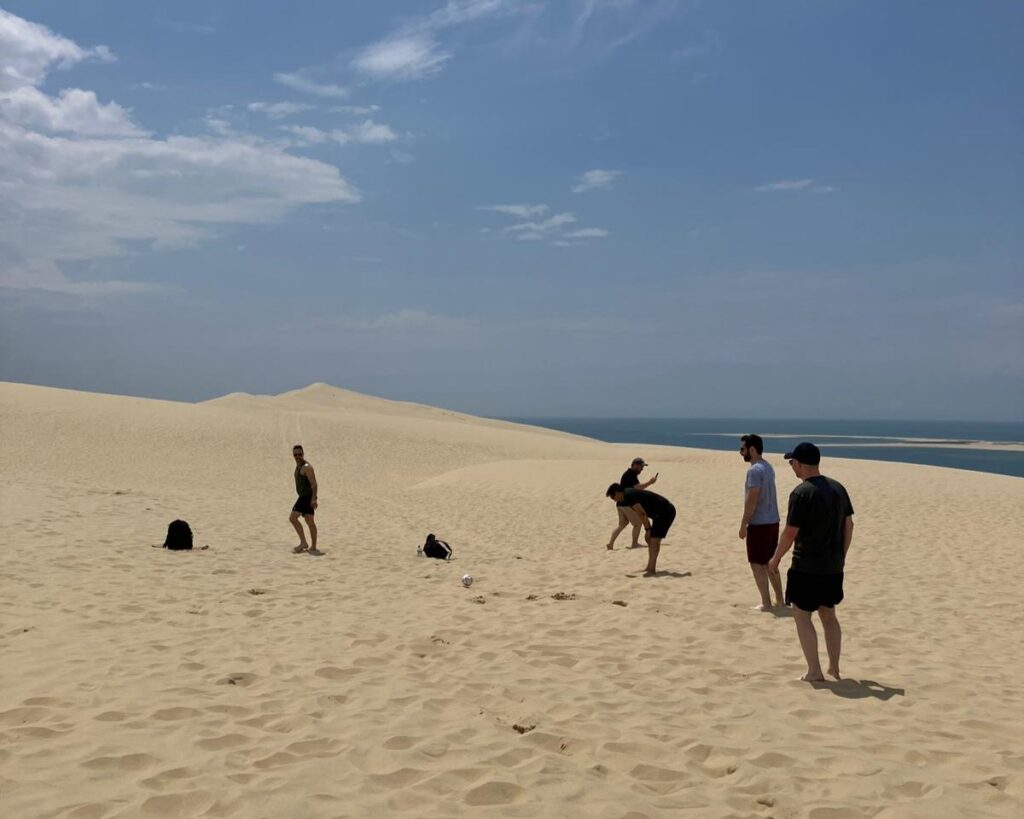 As a group, many of us decided to race to the top (I won… obviously!). We then had some photos and wandered around, before stopping for a spontaneous game of football using the world's smallest (and hardest) ball. Great fun!
Suddenly, the weather took a turn and the heavens opened. We began hurrying back towards the forest to shelter and get the bus back to Arcachon. Running down the side of this steep dune towards a pine forest as the rain hammered down was a truly surreal experience and one I won't forget in a hurry.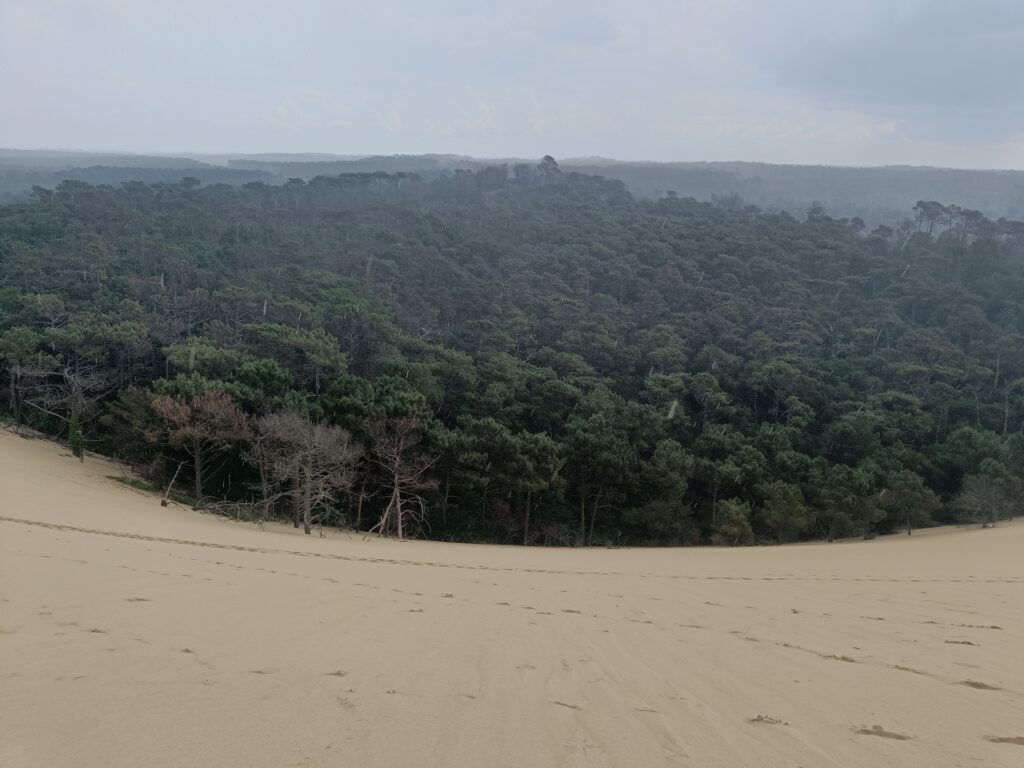 Back in Arcachon, we all enjoyed a light bite to eat and a few glasses of excellent local wine at a very pricey waterfront restaurant. We then hurried back to the bus station for the return trip to Bordeaux and a few final glasses of wine before an early flight home the next morning.
Bordeaux Travel: Where We Stayed
For the record, we were not staying in the centre of Bordeaux. We rented a place in the commune of Pessac. This is the second-largest suburb of Bordeaux, located just southwest of the city (the end of line B on the tram).
It almost certainly would have been more relaxing to stay in the centre of Bordeaux. If you have the option, I would recommend doing that. Otherwise you have a 45-60 minute trip to make at the start and end of each day.
However, Pessac certainly had its charm (and a good wine shop!), so it is worth considering if you are forced to stay further out of the city to save a little money.
As for the Airbnb house we rented… talk about peculiar!
It had everything from a pool, sauna and hammam to a hot tub and a gym (not quite as big as Gold's Gym of course…). It was also peppered with an array of weird and wonderful decorations and paintings. Some pretty sinister.
While it promised a lot, it wasn't the nicest of places in terms of cleanliness and facilities. Still, it gave us some laughs and was comfortable enough. I don't have the space to describe this unusual house in this article, but if you want more details (in case you want to try it or avoid it!) feel free to get in touch.
My Final Thoughts on Travel to Bordeaux
In terms of European travel, Bordeaux had never been on my list of places I wanted to visit. Ultimately, when given the chance to go to Europe, I almost exclusively choose Italy.
However, I am very glad I had the opportunity to spend time in this excellent city and would happily revisit a few years from now (staying in a luxury hotel in the centre, of course!).
I know that I barely scraped the surface of what was actually in the city, but after reading this article back, I feel we made more than enough of our three days in Bordeaux. Wine, culture, food, wine, sand dunes and wine. 👌
I will drink to that.
La fin!