"Turf Games Winter Festival? Nope."
Of course, I was fooling nobody. Six months later, following my adventures at Ealing Trailfinders Rugby Club at Turf Games Summer Festival, I was off to Farnborough for the Winter Festival in February 2023.
Yep, a glutton for punishment.
Once again, I've decided to share a few of my thoughts about the event. Whether you were there, are planning to do a future Turf Games, or would never ever consider it in your wildest nightmares and just want to enjoy my pain… welcome!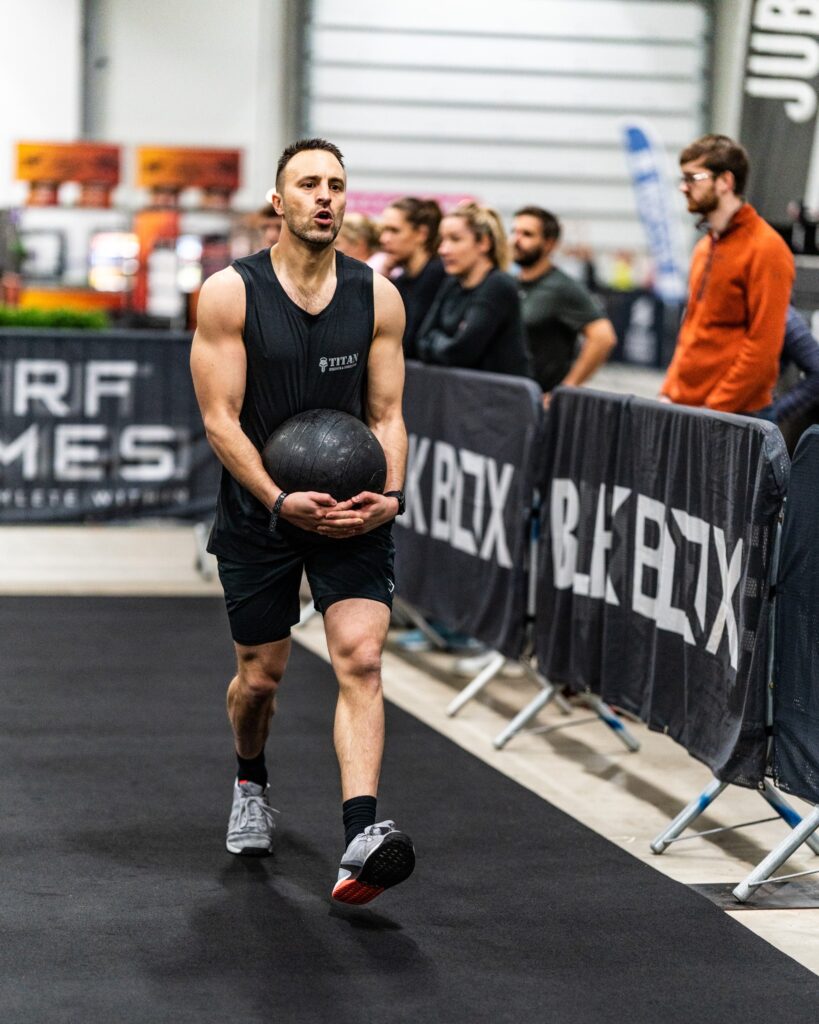 The Build Up
For last year's games, I had a grand total of three days' notice. I was the last-minute call-up for a local five-man team, to replace a late drop out. Because of this, I had no training – I had to rely on my general strength and conditioning to get me through.
This time around, I had several months' notice. However, apart from the final week, I didn't particularly change the way I trained in the build up. I continued to do three strength sessions per week – working on the fundamentals like deadlifts, squats, overhead press… and some bicep curls for good measure. 💪
I also continued to attend my usual strength and conditioning class – Titan Conditioning, based in Swansea University – twice a week.
That was pretty much it.
However, when the official workouts were released around two weeks before, one workout in particular filled me with dread. It appeared that the 'Lift Off' workout would require a three-rep max front squat (bad) from the floor (double bad).
I am not very familiar with cleaning a barbell off the floor, especially with heavy weight, so I practiced this a few times in the gym over the two weeks leading up to the event.
Elsewhere, as a team (mixed male and female this time round, and called 'The Titanics'), we had two training sessions with 'the worm' – a 100kg tube of canvas that requires co-ordination, communication, strength and a good dose of grit.
In a nutshell, that was my training.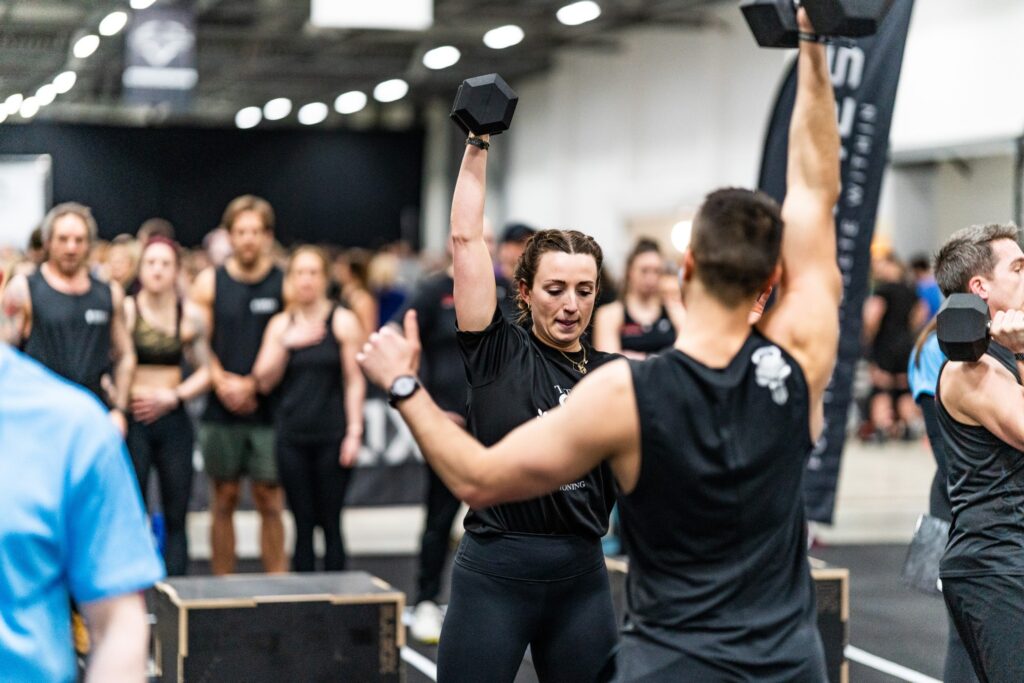 Turf Games Winter Festival: The Big Day
After a much-longer-than-it-should've-been drive the night before (thanks to traffic and roadworks) followed by a good night of sleep at a nearby hotel, I was feeling fresh and ready to head to Farnborough International Exhibition and Conference Centre, the home of the Winter Festival.
As I arrived, I met up with my team, attached the armband to my wrist, then set up camp upstairs. While this huge conference centre didn't have the glorious sunshine and fresh air of the Summer Games, it did have much better facilities – mainly loads of toilets, which were handy considering the amount of nervous pees I had through the day.
I won't go through the events in detail because either you weren't there and it would take me too long to describe each workout in detail, or you were there and you don't need me to detail the workouts.
But to quickly summarize:
#1 – Noah's Ark
Our first event required the strength movements I tend to enjoy – heavy ball to shoulder, dumbbell press, kettlebell swings, and ball carries – which were all synchronized in male and female pairs. However, I didn't enjoy it as much as I anticipated! I found this workout incredibly tough and was dying from the moment we started.
Our judge was decent and if she had to penalize us (i.e. for not stepping onto the 20″ box correctly) she did so with clarity. Despite how tough I found it, our team did pretty well.
#2 – Notorious Worm
Fucking worm.
I think everybody who participated in the worm event would agree that this was the most disgusting workout of all time. Think of the worst workout you have ever endured. It was that but worse. It involved synchronizing burpees over the worm, then deadlifting, squatting, and pressing the worm overhead. Ad infinitum.
By the end my lower back was in pieces and I had nothing left in the tank. By look of the rest of my team, who were on their hands and knees, neither did they.
On that note, as a team we did surprisingly well in this, even if it seemed far from it at the time. We were 'no-repped' a lot in the final round as we all fatigued together and communication broke down. It didn't help that the judge on this round was the least helpful – she was almost silent and gave us limited insight into why we had been penalized. It was so disheartening.
A side note – I know these judges are volunteers, but when there is such a gap in quality, it makes you wonder what the vetting process is.
Anyway, I literally crawled away from the worm a broken man.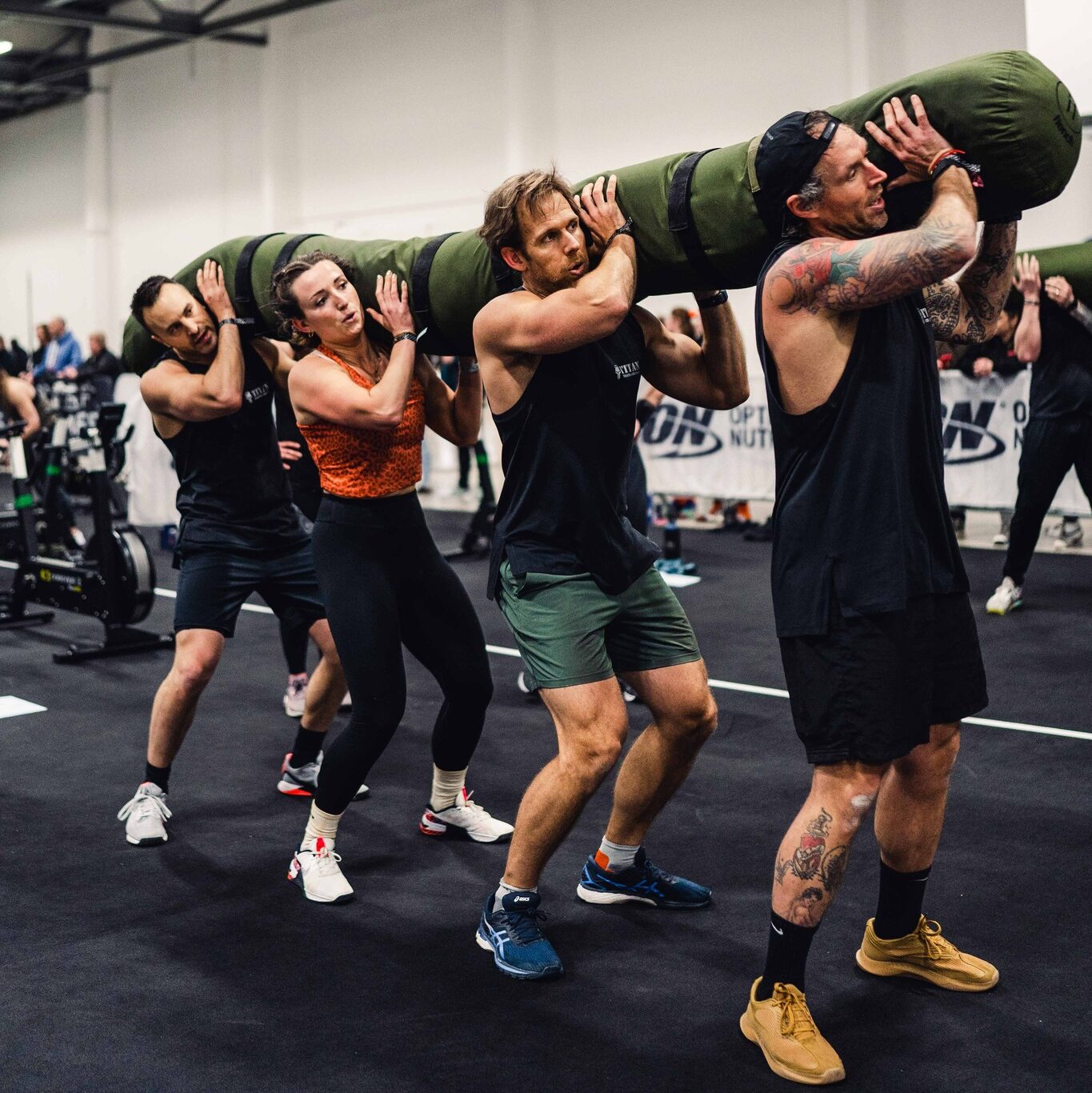 #3 – Chase the Vibe
This was actually quite fun, although it was still a workout that required a lot of digging deep. Very cardio based – row and ski-erg, followed by a 400m run, and some dumbbell deadlifts/lunges in between. We completed more rounds than we anticipated.
Not much else to note about this one, apart from that the judge was very good. Not only was she loud and clear, but she was friendly and even cheered us on, which all contributed to a feel-good factor that left us in high spirits ahead of the final workout.
#4 – Lift Off
I spent the hour before Lift Off very anxious indeed. I didn't enjoy doing the front squat in the Summer Games and now I had to do it all over again, with the added bonus of starting from the floor.
Just before the event, I went to the warmup area to practice a few cleans. I managed around 80kg and felt very weak. It only just came up. Still, I knew that was the weight to go in with.
After the female portion of our team had their 7.5 minutes of lifting glory (and they all did superbly well), it was me to open the lifting for the lads. My 80kg came up quite nicely and the front squat was fine. Relief washed over me, and I watched as the other guys loaded the bar to 90kg for their lifts. I then decided that I would skip 85kg and go straight for 90kg. I knew I'd failed it several times back in Swansea, but… screw it.
Full of adrenaline and with the crowd shouting their support, I stepped up to the bar and hoisted the weight… but failed the clean and the bar slammed back to the ground. Some people shouted advice from the crowd, but I knew I just needed to compose myself. I tried again and this time, success! Up came 90kg – pretty scrappily I might add – and the three front squats were pretty simple after that.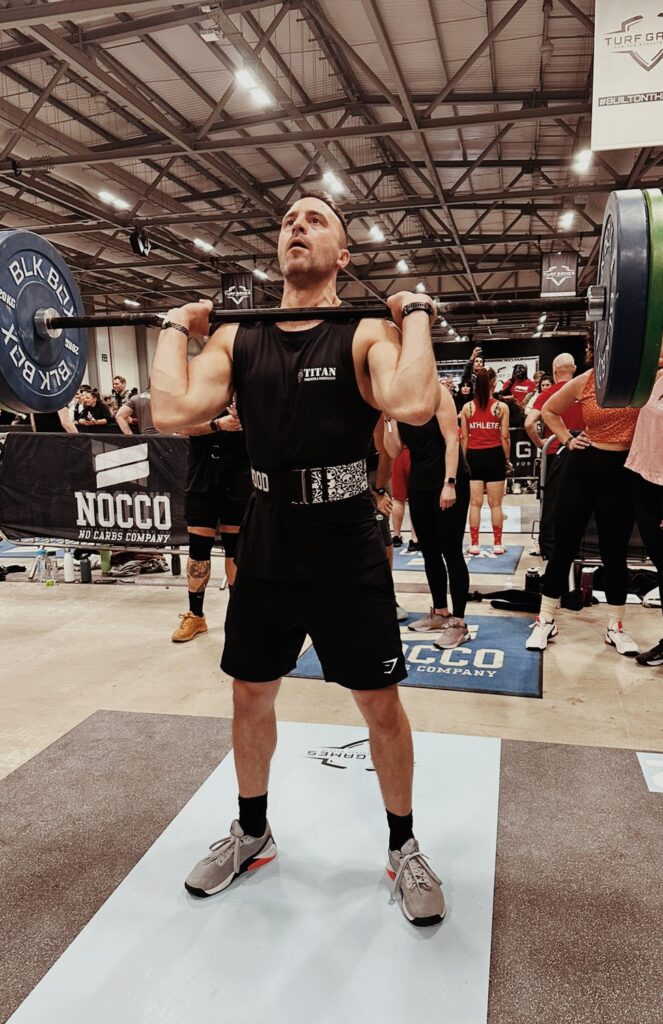 After this, my day was done! I had an expensive veggie burger, had some free protein cereal, and watched my friends compete in their final event, then I jumped in the car for a unwelcome four-hour trip home.
Final Thoughts on Turf Games Winter Festival
I reflect on my second Turf Games experience very fondly. I'm proud of both myself and my team, who came 27th out of 151 teams, which was a very strong result!
My physical strength, cardio fitness, and mental fortitude were thoroughly tested that day, while the support from both my team and the wider Titan community was excellent. Having that camaraderie really pushes you on to do things you didn't think possible (like, life the worm over your head again and again and again).
Will I do another Turf Games?
Throughout the day as I was hunched over, slipping in my own sweat and gasping for breath, I believe I uttered the phrase 'never again' many times.
Yet, the fading affect bias is real.
Watch this space…
—
If you enjoyed this post, please sign up to my newsletter, in which I send very infrequent updates. Also, check out the Planet Health podcast for more healthy fun from around the world!