For those who don't know, I have played guitar for around 17 years. I'm no Eric Johnson, but I'm not bad. 'Decent' – that's the word!
As a teenager, playing guitar was my main activity, alongside being moody and awkwardly trying to speak with women. In fact, I used to play in a punk rock band (we played a couple of Battle of the Bands-style gigs, had some 'artistic differences', then broke up, naturally).
While I don't play as intensely these days, I still have ten minutes most days and always get a buzz when I walk past a new guitar shop. I've also developed a bad habit of buying guitars I don't need, then selling them at a loss a few weeks later. Shrewd.
Over the last few years, I have streamlined my collection down to a respectable four guitars. This is likely to change the moment I press 'publish' as I'm always on the lookout for something else. But, for now, let's take a look at my current collection.
Martin Dx1RAE (Steel-String Acoustic)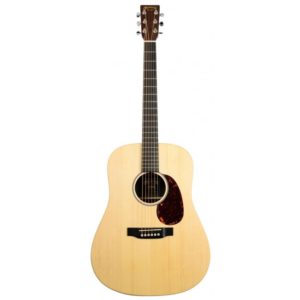 We begin with my most recent acquisition, purchased second-hand in March 2018. This steel-string acoustic is an excellent affordable model from the iconic American brand, Martin. Similar to Fender and Gibson in the electric guitar market, Martin proves the pinnacle of the acoustic guitar world (along with Taylor).
I'm really glad I went for it. I had sold a pristine Taylor Mini and a beat-up old Art and Lutherie dreadnought to make room (and free up some cash) for it, and now it's my only steel-string.
I found it on Gumtree for around £375, which is great considering the RRP is still £650ish. When I went to Cardiff to collect it, the guitar was in a tired condition. While there were no scuffs or scratches on the body, the neck was green with a kind of mould (it had been in a student house after all), the strings were disgusting and the action was way too high. So I took it home, cleaned and conditioned the fretboard, sanded the nut to lower the action, then added some Elixir strings. Now it's perfect. Apart from a tiny ding on the side, it looks and plays like a brand new guitar.
Most interestingly, for a mid-range guitar like this, it's actually made using very little real wood. While the top is solid spruce, the back and sides are made from a High Pressure Laminate. This is essentially a hardboard with a photo of rosewood printed onto the body. It sounds ridiculous, but works very well and is becoming a popular thing for the guys at Martin, who keep their costs down and tick some environmentally-friendly boxes.
Martin also uses a birch laminate for the neck instead of a solid piece of wood. For me, this makes no difference to playability or stability, and it actually gives the guitar a unique look. Finally, the fretboard is made of Richlite instead of ebony. Richlite is another eco-friendly paper-based material Martin uses and, again, doesn't detract from the playability or the overall rich, warm and resonant tone this guitar offers.
Kramer Assault 220 Plus (Electric)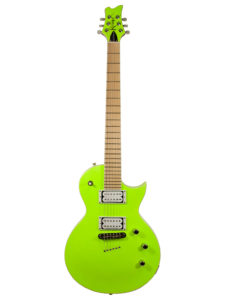 I bought this one in early 2017 and it remains my favourite guitar. It was in the window of Cranes Music in Swansea for ages. Every time I walked past, I lingered to look at it – especially as it was on offer for around £350.
However, a few weeks later, when I genuinely considered splashing the cash, it had gone up to around £450! I was gutted. The price didn't drop again and I decided I wasn't going to buy it until it did.
However, I couldn't let it go. Something about it just called out to me. So I asked the manager if he could do a deal and take it back down to the £350ish it was at in the January sales. After a little time he decided that he could do it for around £370. I snapped it up!
This guitar is fantastic. Not only does it look incredible with that neon green-coated Les Paul-shaped mahogany body, but it plays like a dream, especially with the typically Fender-esque 25.5″ scale length. The neck is mahogany and satin-finished, which I love – a much nicer hand-feel than gloss. All frets are easily accessible and the strings bend with ease.
The tone is also a big step up from my earlier Ibanez RG450dx – it's powerful and aggressive thanks to the duo of Seymour Duncans (an Alternative 8 at the bridge and a 59 Classic at the neck). It does feature coil-splitting and various tone controls, but I am one of those players who keeps it on the bridge pickup, tone all the way up, volume all the way up! Not one for subtle tones then.
Hudson ProjectBass (Bass)
I don't play bass. But I do mess around on bass. Essentially I have a small repertoire of basslines I know and love (Beer, Roots Radicals, the Frasier theme song…), and will pick it up and have a noodle around when I have five minutes.
I bought it just after Christmas 2017, again from Cranes Music in Swansea. Now, I am fully aware that Hudson isn't a brand to get too excited about. They make basic, affordable guitars. But that's exactly what I wanted with this bass. The fact that it looks pretty cool and plays very nicely helps! I don't actually have a bass amp, so I just play acoustically. Still, that works for me to satisfy my bass needs.
Hudson HI-CL (Classical)
This is another affordable guitar also bought in Cranes, a few years back. This time it's a nylon-stringed classical model for my classical/fingerstyle playing.
It was under £100, is made entirely of laminates, and is pretty basic. However, the fretboard is nice and wide, the playability is excellent, it's bound on the top and back, and the tone is very acceptable. I'm no maestro when it comes to classical guitars, but this feels much more than a basic starter instrument. A keeper!
Check back, as I will update this page when I end up buying another!