I am a Pn1-certified nutrition coach based in Swansea. My coaching philosophy is one of 'deep health', using a biopsychosocial approach – taking all aspects of your life into account, from what goes into your mouth to how you sleep.
My goal as a weight loss coach is to help my clients make their own decisions about what they eat, which is a healthier and more sustainable way to live than following strict meal plans and workout schedules.
Because who doesn't like a slice of cake?
There are many negatives to counting calories, while restrictive diets (where you eliminate a macronutrient such as fat or carbohydrates) tend to become frustrating in the long run.
My approach can deliver excellent results, whatever your body composition or athletic goals. The following testimonials from previous clients confirm this.
If you are looking to lose weight, build muscle, and/or age in a healthy way, then please get in touch!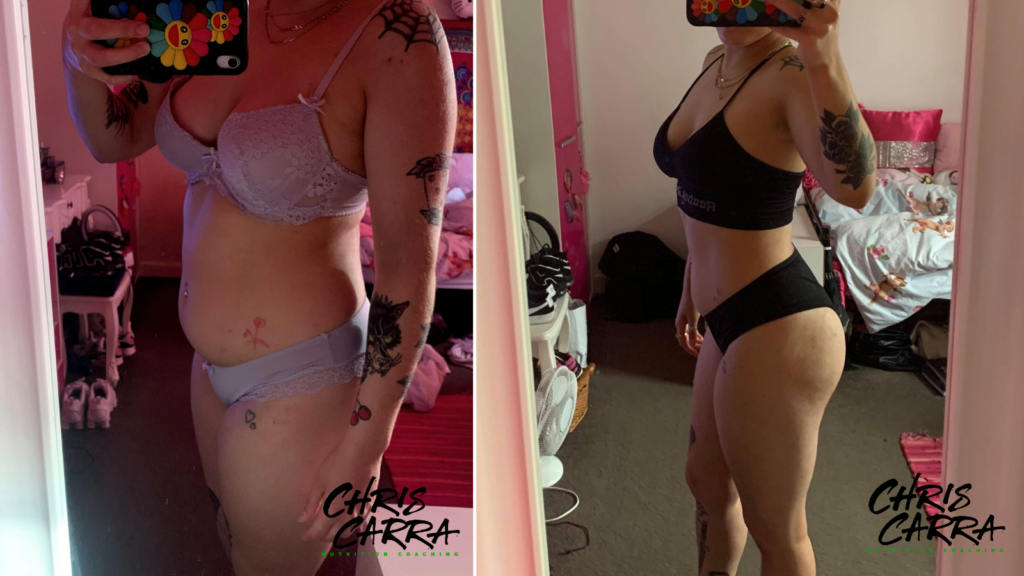 Client Testimonials
Here are a selection of testimonials and recommendations from some of my clients (latest comments at the top). If you haven't left a review yet, please email me – I'd love to feature your words!
I had been 'yo-yo' dieting for years, but always ended up gaining more and more weight with a very unhealthy relationship with food. Chris helped me think differently about food and maintain a consistent approach to managing weight loss.

My time working with Chris [July to October 2021] desperately gave me the needed kickstart to healthy weight loss, which I have been able to maintain longer term.

Lisa M (December 2022)
---
I've been working with Chris for a few months now and, as a result, I am well on the way to achieving my weight loss goal!

His approach is professional and reassuring, and he really knows his stuff. He genuinely motivates and has worked with me at my own pace, which is brilliant.

I can't recommend him enough if you are in need of someone to guide and support you. Thanks a million Chris. A bit more work and I should be where I want to be!

Steven M (July 2022)
---
Myself and my husband did the 12 week coaching with Chris. We were surprisingly naïve about nutrition and weight management, and Chris helped us make sense of how to maintain a healthy lifestyle. We both lost weight pretty easily during this period (I lost 1st and 3lb!), but most importantly it was about ways of becoming consistent with diet and exercise and maintaining this – that has made the difference.

We ended up extending our coaching with Chris, because we found the chats, advice and moral support really helpful. We've since been able to maintain and even lose more weight during this time, and lots of the advice he's given has now become second nature. It's not so much about diet, but more about lifestyle and creating healthy habits.

Chris is a real lovely guy, easy to get along with and we felt comfortable telling him anything. He's also great for a good motivational quote! If you are looking for a bit of motivation, and just solid advice and guidance, then Chris is the guy for you. Thanks Chris!

Donna L (June 2022)
---
Chris knows his stuff! And he's super clued into an individual's needs. I fully recommend his help for any fitness goals. He guided me to losing weight and then hitting my running race goal. My performance in the race was all that I could have wished for!

I finished 18 weeks of guidance slimmer and faster. His words are in my mind a lot as I continue with my fitness journey. Thanks Chris!!

Patti C (January 2022)
---
Chris is a fantastic, personable and knowledgeable coach who I would recommend to anyone.

I joined the 12 fit weeks program [with Athlegan] to help get my weight back on track. He guided and motivated me through the course, keeping in touch, dropping motivational messages at just the right time and helping me not only lose weight (almost 3 stone!), but most importantly giving me the tools to understand my nutrition and help me change to a sustainable, healthy lifestyle that I can continue long term.

I learnt so much about my eating habits, why and how I had built the wrong ones, while being able to learn and maintain the right ones. I continue to this day to use the techniques I learned from Chris, to maintain a healthy and happy lifestyle. Thank you Chris – when I say you changed my life, I mean it!

Duncan C (November 2021)
---
Over the past 3 months, Chris worked with me to help me lose weight. In this time, I lost several pounds and gained lots of knowledge thanks to Chris's expertise and dedication to help me reach my goal. Whenever I've needed advice, he has been happy to offer it and provided me with lots of resources, so that I can be informed on the topics we have discussed.

Over this time period I've felt comfortable having Chris as my coach, and was not afraid to ask questions when needed. I have overcome lots of anxieties surrounding appearance and movement, which is down to Chris helping me find determination I wasn't sure I had.

I'm very thankful to have had Chris's help over the past 12 weeks, and I would highly recommend him to anyone wanting to lose weight, maintain weight or gain knowledge in nutrition, whatever department that may be.

Isla H (July 2021)
---
Chris can change your life if you are ready to be consistent in your approach to food and exercise. I lost a stone and a half, and am still losing weight, during my 12 weeks with him. Chris explained simply what I could do to improve my relationship with food and provided me with an easy to follow nutrition guide.

He is an excellent motivator and I enjoyed my regular sessions. If you are ready to make the change you need in your life, Chris will help you to maximize your success.

Julia M (June 2021)
---
Chris's knowledge and expertise in nutrition has really helped me get a better grip on fueling strategies for my marathon training and also with helping to get rid of that chocolate-induced December weight gain.

Thanks to his patience and persistence in weekly Skype sessions and daily encouragement through his messages, he's helped developed my understanding of nutrition and added some much needed strength training to complement my running schedule.

Steve H (April 2021)
---
Excellent motivational coaching with enthusiasm. Chris provides tips that make a huge difference that are easy to follow and produce real results. Highly recommended reliable advice for a healthier life.

Shaun G (March 2021)
---
Chris was very informative with a friendly persona. I learned so much, and lost 9lbs in 12 weeks. I now have a greater understanding of how to be healthy and active, and to keep the weight off.

John M (February 2021)
---