In February 2020, I took a trip to Los Angeles. It had been a decade since I last went and I fancied doing a few things I hadn't the first time around.
One of these was visiting the iconic Gold's Gym in Venice.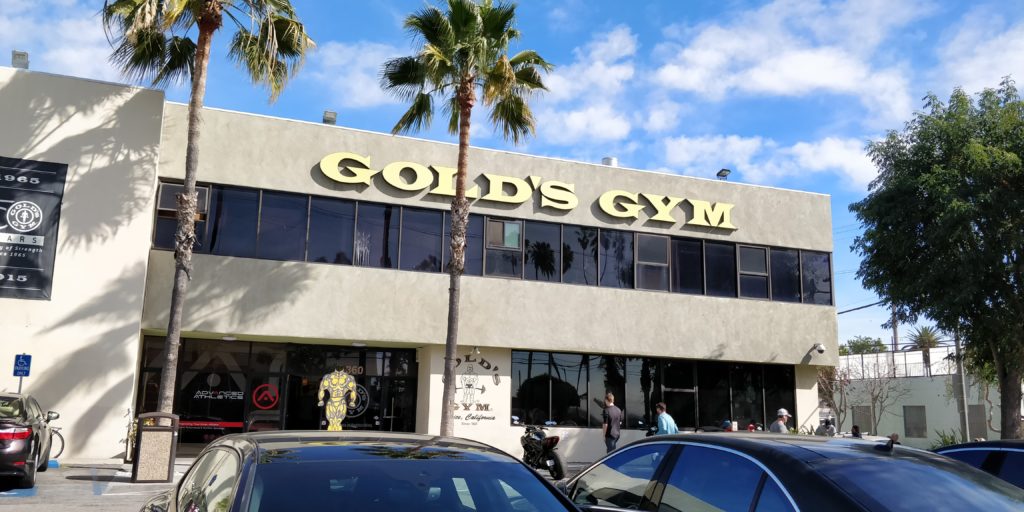 Really? You travelled over 5,000 miles to visit a gym?
I did indeed! Being a fitness writer and general fitness nut, I simply had to visit the best gym in the world (sorry Xercise4Less Swansea – you knew it wasn't you).
For those who aren't aware, Gold's was opened by Joe Gold in 1965, a few blocks in from the famous Venice Beach.
As I explain in my book, the Bluffer's Guide to Fitness:
'The opening of Gold's was highly anticipated by the bodybuilding community, with one keen journalist writing, 'This is going to be a gym for men. No fancy rugs or chrome – just plain old-fashioned weights and the greatest apparatus you ever saw'. While the lack of fancy rugs may have put some people off, Gold's soon became home to some of the most famous bodybuilders of all time, including Frank Zane, Franco Columbu and Arnold Schwarzenegger (the likes of whom were featured training at Gold's in George Butler's 1977 docudrama Pumping Iron – essential viewing for bluffers).'
Since the sixties, Gold's has expanded and now boasts around 400 locations across America and 20 other countries around the world. However, it is the original that interested me. The Mecca of Bodybuilding.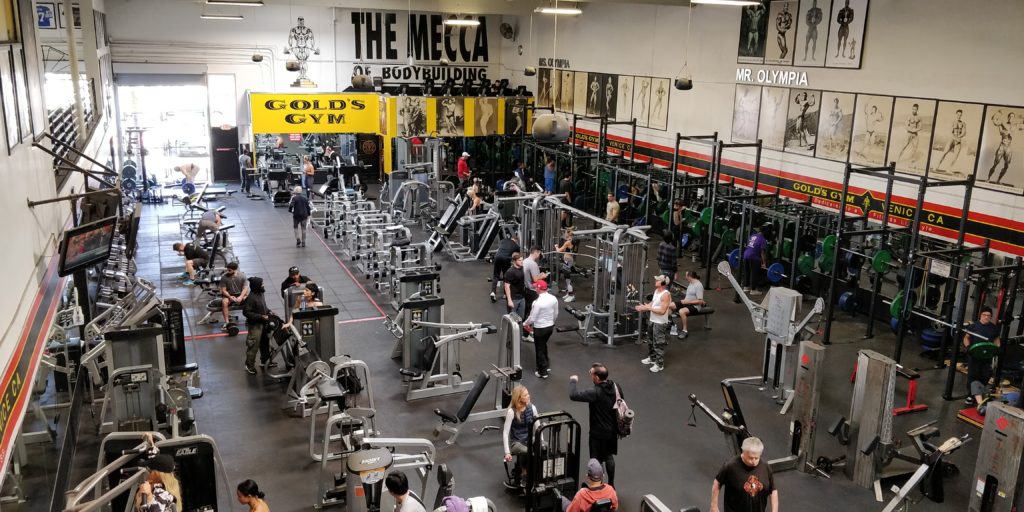 However, I didn't just want to visit the landmark gym – I wanted to train there. I wanted to use the same benches as Arnie, the same dumbbells as The Rock, and the same treadmills as Pierce Brosnan (…accepted he's not really a fitness superstar, but my favourite Bond anyway).
On that note, would I see any celebrities? In addition to bodybuilders and fitness YouTubers, it's a popular gym with the A-listers of LA, so there was every chance I'd be rubbing shoulders with Mark Wahlberg or Helen Hunt. More on that later (spoiler alert: I didn't meet Helen Hunt).
The cost for a session at Gold's, Venice, is an eye-watering $40. That's around £32 – a far cry from the usual £5.95 I'd pay for a session at the less iconic LC in Swansea…
However, my session was worth every penny.
As soon as you enter the dated building, you can feel history oozing from every corner. A real lifter's gym – everything was dented, scratched and mismatched. Tons (literally) of equipment, all added over decades and used to death.
Walking around, it felt a bit surreal, considering the amount of times I had seen the gym in action on screen.
Yet, I wasn't there to gawp (well, I was, kind of…) – I was there to PUMP SOME IRON!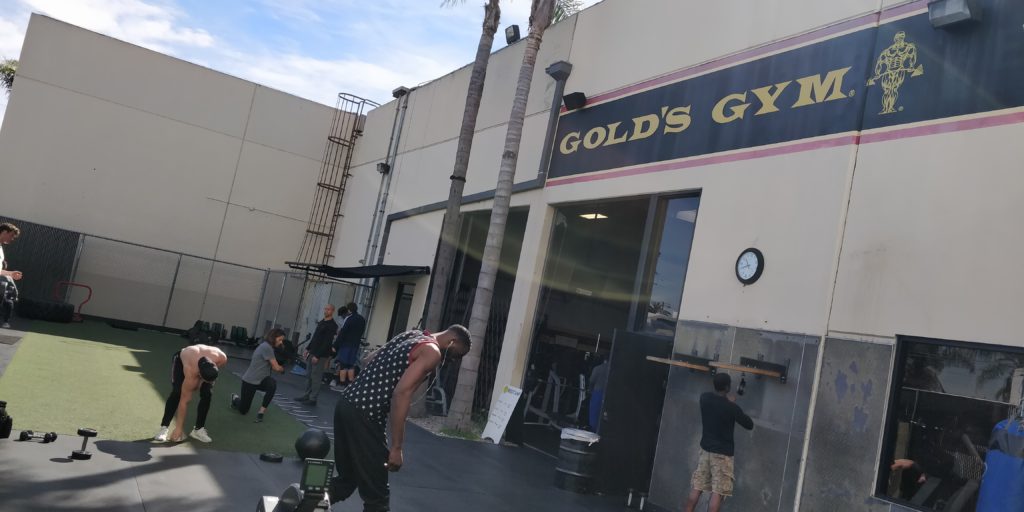 I made my way to the treadmills towards the rear of the building. The photo above shows just one of, what I counted, three massive rooms – the place was huge!
On my way to the treadmills – where I would do some light jogging to warm up – I passed a popular vegan bodybuilder who I had seen on YouTube multiple times. I had no urge to say hello, mainly as I couldn't remember his name, but it was cool to see a 'celebrity' right off the bat.
I didn't really have a training session planned that day, as I wasn't really on a program while in America. So I decided to just do some upper body work, starting with my favourite – incline bench press.
It was on these benches that I had my first glimpse of some absolute beastly bodybuilders, full to the brim with 'juice' and bigger biceps that my head (and that was the female bodybuilder). Cool.
Next, I moved to the outdoor area nearby (some people confuse this with Muscle Beach which is actually on Venice Beach, but it's not the same thing). Here I did a couple of sets of pullups on the bars in the glorious LA sunshine. I could get used to this.
Back inside, I sat at the low row station to continue my back work. Next to me, on a calf raise station, sat a huge chap. I had a glance to my right and it confirmed my suspicions; I was training next to Big Show (aka Paul Donald Wight II) – pro wrestler, film and TV star! Awesome.
However, I let him get on with it, and made a note to catch him after the session if I could find him (although at 7ft and 400lbs, it would be genuinely hard to miss him).
The rest of the morning became less structured. I was just hopping around, training on whatever took my fancy. Gold's is absolutely packed with equipment – half of which nobody other than a pro bodybuilder would have any use for. I used as much of it as I could, just for the hell of it.
I wrapped up my session with some tire flipping outside, followed by a vegan protein shake from the fridge, the purchase of a t-shirt and, of course, a selfie with Big Show. I had a seat with him in the lobby and chatted for a couple of minutes – lovely guy; hands like fleshy dinner plates.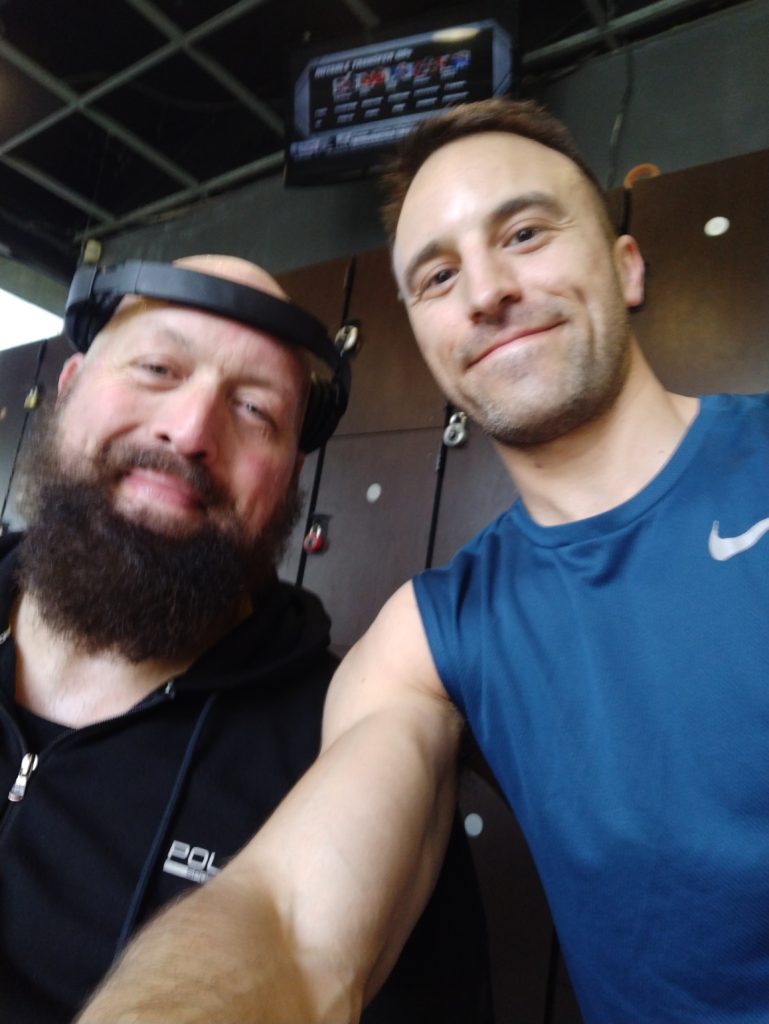 I did use the upstairs changing room to wash my face, but the showers looked a bit suspect, so I bypassed them and instead used a lovely refreshing wipe before leaving.
Of course, I had my Instagram-friendly double-biceps pose outside the front of the building. Then I went into a nearby shop and bought a homeless guy a pack of 'Lunchables', because he asked so nicely and I was in a good mood.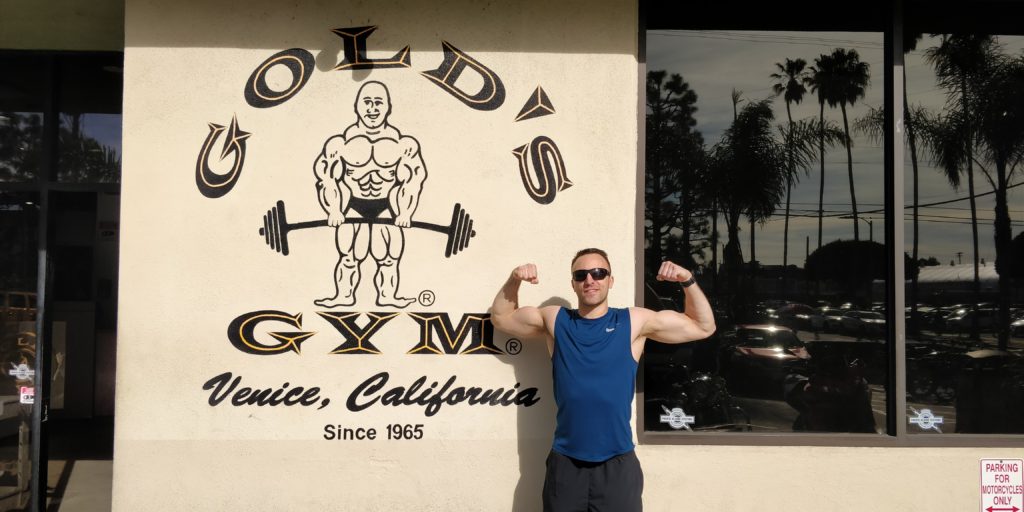 If you're into fitness and are in LA, Gold's Gym in Venice is a must-see. I spent around three hours there in the end, and – call me crazy – it was genuinely the highlight of my trip.
Until next time…