In a nutshell, I'm an award-winning blogger, freelance writer and author from Swansea.
Let's look at those three in more detail…
AUTHOR
Starting with the more glamorous part of my job, I am the author of four books.
The first three are already available, while the fourth will be released in late 2019. Let's check them out briefly, although there is more on my dedicated books page.
#1 – Swansea City's Greatest Games (Pitch Publishing, October 2014)
My debut book was the ultimate journey through fifty of the Swans' finest matches. Read more and buy this book here.
#2 – The Swansea City Miscellany (Pitch Publishing, October 2015)
My second book a was published in September 2015 and is a mini encyclopedia of Swans history, trivia, facts and stats. This is an official club publication and endorsed by chairman Huw Jenkins. You can read more and buy this book here.
#3 – Swansea City Match of My Life (Pitch Publishing, August 2018)
My third is also on Swansea City, although this time is a collection of stories told from the point of view of 16 iconic Swans players – all reliving their favourite games in a Swansea City shirt. This book includes a foreword from John Hartson. You can buy this book here.
#4 – The Bluffer's Guide to Fitness (Haynes, November 2019)
Part of the 5 million copy bestselling Bluffer's Guide series, now published by iconic British publishing house, Haynes. You can buy a copy of the Bluffer's Guide to fitness here.
#5 – The Bluffer's Guide to Whisky (Haynes, November 2020)
Another part of the bestselling Bluffer's Guide series, this time on the wonderful world of whisky. This is a co-authored book! More details to come!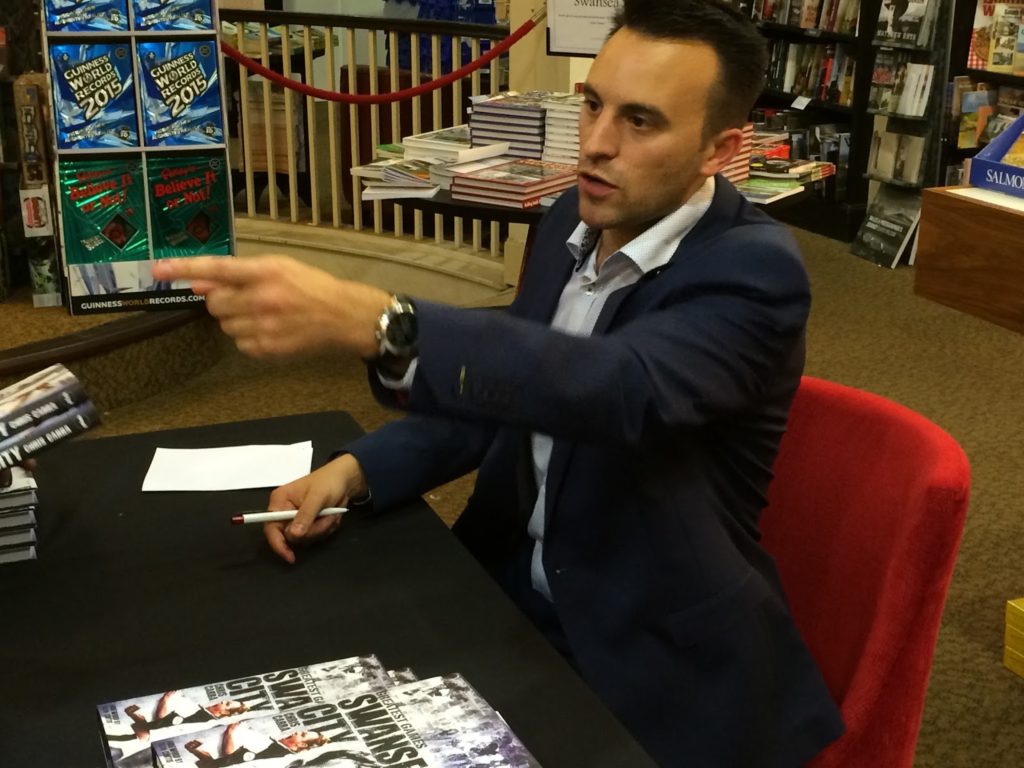 FREELANCE WRITER 
When I'm not writing books, the bulk of my day-to-day writing work is done for a variety of businesses around the world. I write articles, web copy, reviews, press releases and blog posts for businesses on a range of topics, from guitar and travel to software and technology. You can see my current client list here. I also write editorially for several newspapers and magazines on everything from food to sport.
BLOGGER
As well as books and freelance writing, I also find some time to fit in my original passion – blogging!
Forgetting a ill thought-out blog I created around 15 years ago, my main blogging journey began in 2010 when I created ForzaSwansea.com – a blog about Swansea City football club. A few years later, this was named Best Sports Blog in Wales at the Wales Blog Awards 2012. Over the years the blog attracted hundreds of thousands of readers from across the globe and received national media attention. While I have now passed the site on to somebody else, I moved onto blogging about Swansea City for Yahoo! Sport (although I no longer write for them).
Elsewhere I have been a regular contributor on food and drink for Metro, and have worked for several newspapers and magazines. I've also contributed editorial and opinion for print, websites and radio including: BBC Wales Sport, The Sunday Times, Goal.com, Swansea Sound and South Wales Evening Post.
These days the majority of my blogging is done for this site, as it allows me to write about what I want, when I want!